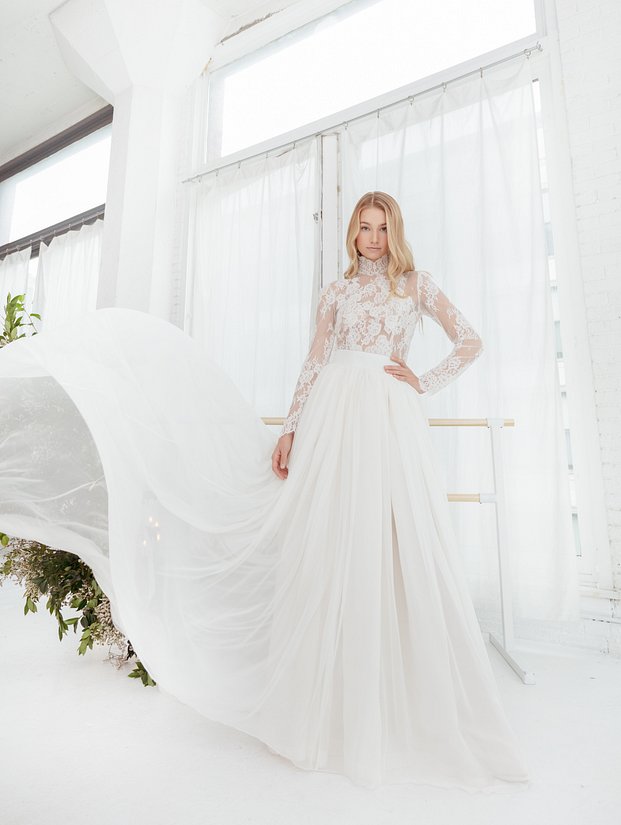 A strapless gown made for a grand appearance. The Aria gown is woven with precious pearls, crystals, laces, loose silk fiber and fabrics. The woven beads and strings drip down into the skirt creating an elegant rainfall of subtle sparkle. If you want a gown that will dance and twirl the night away with you, Aria is the perfect choice.
Ava is complete sophistication. Designed with a classic sweetheart neckline, a sleek A-line skirt with a bit of gather for ease and volume. This gown is classic and timeless with a stand-out flare of handwoven crystal & pearl fabric in the center of it all. This italian satin and handwoven mastierpiece looks as if they were made for eachother. Are you an Ava bride?
Francesca is constructed with a sheer and tailored bodice, embellished with hand-stiched French lace pieces. Francesca is a gentle approach to a mermaid shape gown, featuring a soft and romantic skirt of tulle with a hand-sewn lace border. Handmade silk covered buttons cascading down her back revealing a 3 foot long train. Tieing this whole look together, pair Francesca with an organza, charmeuse or a state-of-the-art CMF handwoven sash.
The Michaela Gown is the most decadent gown of the Il Tesoro Collection. Raw, sharp crstals woven and secured with loose silk fiber, high grade sea pearls woven right into the fabric draping throughout the bodice. An italian organza and crinkle chiffon as the skirt for the final touch of this outrageously espressive gown.
The Arabella bodysuit paired with the Michaela skirt - a match made in heaven. Hand-stitched french lace appliques, scalloped sleeves and a dramatic high Victorian neckline compliment the silk covered buttons running down her back and sleeves. A chiffon and organza skirt with a show-stopping seven foot train. Delicate yet discreetly daring and powerful, Arabella is a CMF staple.
The Valentina handwoven bodysuit paired with the Michaela skirt. Sleek, modern and sharp design mixed with an expressive and volumous skirt. The Valintina bodysuit is woven with the highest quality pearls, crystals and silks.
Il Tesoro, translated as, "treasure" in Italian, is an opulent and lavish line of couture bridal wear featuring rich, hand-woven fabrics embedded with decadent pearls, crystals and stand-out gemstones. It is noted for its billowing fabrics, romantic French laces and intoxicating textures.
This ground-breaking collection is filled with couture separates, including hand-woven bodysuits, structured bustiers, formal skirts, blazers, coats and of course, the highest level of luxury bridal gowns. This collection was created for the distinctive bride, but also to give women a taste of what Cara is capable of creating. Each piece of Il Tesoro is a wearable wonder designed for the most discerning bride.